MYA - T 07: COMPACT CIRCUIT, 10 days (S)
Yangon – Bagan - Mandalay - Meikhtila – Kalaw - Pindaya - Taunggyi - Inle Lake - Nyaung Shwe -
Day 1 Yangon
<![if !vml]>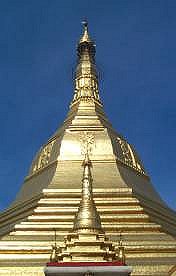 <![endif]>
Arrival at Yangon airport, meet on arrival and transfer to the hotel. Your journey begins with sightseeing in Yangon to visit Shwedagon Pagoda for sunset.
Overnight in Yangon
Day 2 Yangon
After breakfast at the hotel, escort on an introductory tour of this colorful metropolis. First to visit Sule Pagoda - an excellent landmark of Yangon where a Sacred Hair Relic is enshrines, Batatauang Pagoda's circular treasure vault covered in a mosaic of mirrors and Kyaukhtatkyi Pagoda (reclining Buddha).
Afternoon, visit the National Museum with several interesting exhibits such as the regal Lion Throne of the Last Burmese King, the gem-encrusted crown jewels of old Burma, a modern art gallery, wood and lacquer furnishings from everyday life.
Overnight in Yangon
Day 3 Yangon – Bagan
<![if !vml]>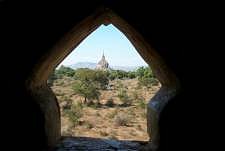 <![endif]>
After early breakfast, transfer to the airport for domestic flight from Yangon to Bagan. Upon arrival, transfer to the hotel and continue the day with sightseeing in the major temple and lacquer ware factory in Bagan: visit Ananda Pahto - one of the finest, largest, best preserved and most revered of the Bagan temples, Shwegugyi -smaller but elegant pahto is an example of the Middle period, Thatbyinnyu Pahto - this 'Omniscient' temple is one of the tallest in Bagan, Pahtothamya - was build by King Anawrahta who carted off some 30 elephant-loads of Buddhist scriptures and built this library to house them in 1058, Nathlaung Kyaung - Bagan's only Hindu Vaishnavite temple probably built in the 10th century, Gawdawpalin Pahto - one of the largest and most imposing of the Bagan temples. The name literally means Platform to which Homage is paid. Visit the oldest cylindrical Pyu-style stupa - Bupaya, which is located on the bank of the Irrawaddy and watch the sun set over Bagan
Overnight in Bagan
Day 4 Bagan – Mandalay
After breakfast, continue sightseeing in Bagan visit Mahabodhi Temple - Inspired by the Mahabodhi at Bodh Gaya in India, Dhamayangyi Temple - the brickwork of this temple is said to rank one of the finest in Bagan, Sulamani Temple - temple is one of the best examples of the later, more sophisticated temple styles; experience the mural paintings which the interior tell the story of the Temptation of Mara in Nandamannya Temple and visit "Omniscient" Temple and its enormous size makes a classic example of Bagan -Thatbyinnyu Temple. After that transfer by vehicle from Bagan to Mandalay
Overnight in Mandalay
<![if !vml]>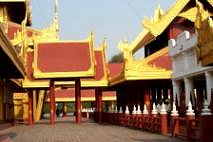 <![endif]>Day 5 Mandalay
After breakfast, you will process to visit Mandalay Museum & Library - the museum and library containing a collection of Mandalay regalia, royally commissioned art and palm-leaf manuscripts that were formerly housed in the palace, Kyauktawgyi Pagoda, Sandamani Paya - a cluster of slender whitewashed stupas, Mahanumi Paya - the most revered religious monuments in Myanmar, Kuthodaw Paya - the world's largest book made of marble, Shwenandaw Kyaung -monastery of great interest, not only as a fine example of a traditional Burmese wooden monastery, but also as a fragile reminder of the old Mandalay Fort and Shwekyimyint Paya.
Overnight in Mandalay
Day 6 Mandalay
<![if !vml]>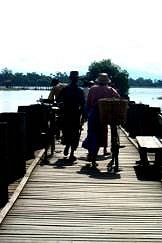 <![endif]>After breakfast at the hotel, excursion to Inwa (Ava) - a charming horse-drawn carriage will take you to the Nanmyin Watch Tower - the remains of the palace building call "leaning tower" of Ava. Visit the Maha Aungmaye Bonzan Monastery - built of brick and stucco as well as the Bagaya Kyanun Monastery - famous for its ornate woodcarvings and teak posts. Then continue to Sagaing, and Amarapura with numerous monasteries and pagoda, a retreat for Buddhist devotees, and visit 200-year-old U Bein teak bridge - built in 1782 at the time when Amanrapura was the Royal Capital before return to Mandalay
Overnight in Mandalay
Day 7 Mandalay - Meikhtila – Kalaw
After breakfast at the hotel, your drive begins for Kalaw past Meikhtila and Kyaukse.
Overnight in Kalaw
KALAW sits high on the western edge of the Shan Plateau. This was a popular hill station in the British days, and it's still a peaceful and quite place with an atmosphere reminiscent of the colonial era.
<![if !vml]>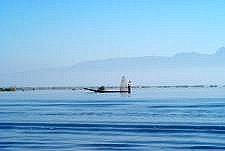 <![endif]>Day 8 Kalaw - Pindaya - Taunggyi - Inle Lake
After early breakfast, start your journey by road, north along Highway 41 past Aungban and the Danu Villages of Pwehla and Ji-Chanzi in Shan State. The Aungban-Pindaya road is scenic and there are fields of dry-cultivated mountain rice along the way and potato fields where the tuber is grown in red mud mounds. Visit Pindaya Caves - a unique site housing thousands of Buddha images placed there by pilgrims over the centuries and Shwe U Min Paya - a cluster of low stupas just below the ridge near the Pindaya Caves. Afternoon proceed by road to Nyaung Shwe (Inle Lake) and excursion by boat on the Inle Lake, located in Shan State. It is beautiful with very calm waters dotted with patches of floating vegetation and busy fishing canoes. High hills rim the lake on all sides. The lakes shore and islands bear 17 villages on stilts, mostly inhabited by the Intha people. Enjoy the spectacular scenery and observe the skilled fisherman using their "leg-rowing" technique to propel themselves around the lake. Visit Phaungdaw Oo Pagoda, the weaving village and visit local market and Intha Village around the lake.
Overnight in Inle Lake
Day 9 Nyaung Shwe - Heho – Yangon
After breakfast, free time at leisure and transfer to Heho airport for domestic flight from Heho to Yangon. Upon arrival, transfer to the hotel and evening free time at leisure.
Overnight in Yangon
Day 10 Yangon
After breakfast at the hotel and free time at leisure before transfer to the airport for departure
End of Services **Note: Itinerary subject to change due to flight schedules.
US$

Per pax

1 Pax

2 Pax

3-6 Pax

7-11 Pax

12-15 Pax

16-20 Pax

21+ Pax

SIC

Single

Supplement

Standard

1,490

940

849

715

597

554

584

930

103

Superior

1,552

990

881

750

628

587

600

972

132

Deluxe

1,830

1,070

1,010

877

758

716

612

1,100

290
- Valid from 01 Jan 05 to 30 Sep 05
- The above rates are in USD per person base on twin sharing room
- Reduction for 3rd pax in triple room: US$44 for Standard; US$22 for Superior; US$185 for Deluxe
- Child reduction (sharing bed of parents): under 2 years FOC; under 12 years -30%
Hotels

Standard

Superior

Deluxe

Yangon

Liberty Hotel 2-3*
Superior

Thamada Hotel 3*
Superior

Nikko Royal Lake Yangon 5*
Superior

Bagan

Kaytumadi Dynasty 2*
Superior

Thazin Garden Hotel 3*
Superior

Thiripyitsaya Sakura Hotel 4*
Superior

Mandalay

Treasure Hotel 2*
Superior

Mandalay Swan Hotel 3-4*
Standard

Mandalay Hill Resort 4-5*
Superior

Kalaw

New Shine Hotel 2*
Superior

Dream Villa Motel 2-3*
Superior

Hill Top Villa 3-4*
Superior

Inle Lake

Shwe Inn Tha Hotel 2-3*
Standard

Paradise Inle Resort 3*
Superior

Inle Lake View Resort 4*
Deluxe
Accommodation in hotels is subject to availability. If the listed hotel is fully booked, alternate accommodation will be offered. All hotel ratings are according to the local accreditation authority.
Included services:
- English or German-speaking guide.
- Meals according to itinerary.
- Flight ticket(s) as mentioned in the itinerary. Flight from Yangon to Bagan and flight from Heho to Yangon
- Ground transportation in private A/C vehicle (complimentary cold towels and drinking water).
- Sightseeing incl. admissions fees according to itinerary.
- Accommodation in hotels as mentioned above or equivalent.
Excluded services:
- International and domestic airport tax. **Airport tax information**
- Visa fees, drinks, and personal expenses.
Tour Dates

11 Mar 2005

25 Mar 2005

08 Apr 2005

22 Apr 2005

06 May 2005

20 May 2005

03 Jun 2005

17 Jun 2005

01 Jul 2005

15 Jul 2005

29 Jul 2005

12 Aug 2005

26 Aug 2005

09 Sep 2005

23 Sep 2005

07 Oct 2005

21 Oct 2005

04 Nov 2005

18 Nov 2005

02 Dec 2005

16 Dec 2005

30 Dec 2005

13 Jan 2006

27 Jan 2006

10 Feb 2006

Note: All Seat In Coach tours have guaranteed departure for minimum 2 pax
Remarks:
1. Please note that the validity of this quotation includes the Christmas and New Year period. Many hotels could include last minute compulsory meal packages during these festivals. We will inform you of any additional costs, if applicable, as soon as we are notified by the hotels, and will adjust the quotation accordingly.
2. Please note that general terms and conditions apply as stated in our Terms and Conditions.
Trails Of Asia reserves the right to alter or revise the prices and the itinerary in this quotation when circumstances beyond the company's control deem it necessary.