BKK - 02: CROCODILE FARM, Half day
The tour is operated from 12.00 to 17.00 hrs.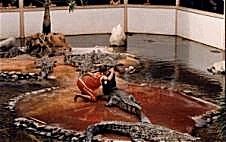 Visit the Samut Prakarn Crocodile Farm. The world's largest crocodile farm, it houses more than 60,000 fresh and salt water crocodiles and also offers an exciting show of a man playing with this dangerous animal. Crocodile skins are produced as material for quality leatherwear. Besides crocodiles of all ages, the farm also raises elephants, tigers, snakes and chimpanzees. The Dinosaur Museum in the compound displays life-size models and skeletons of dinosaurs. This service is operated on the basis of sharing the same vehicle with other customers.
TOUR INCLUDED
1. Licensed driver with licensed English-speaking guide
2. All road tolls and parking fees
3. Admission to Ancient City Museum
4. Private tour: Transport by private air-conditioned vehicle
SIC: Transport by non-private air-conditioned vehicle (operates in morning only)
Thai Baht

Per pax

1 Pax

2 Pax

3-4 Pax

5-7 Pax

8+ Pax

SIC

3,270

1,830

1,350

970

Upon Request

600
Booking | Back