BKK - 17: SAFARI WORLD AND MARINE PARK
The tour is operated 08.00 to 17.00 hrs.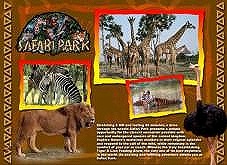 Safari World is a unique 170 acre wildlife amusement park designed to fill your day with the wonders of the wild kingdom and hopefully to motivate individuals to care about conserving wildlife and their habitats. Visitors can drive a car through the Safari Park viewing animals in free roaming habitats or stroll inside the Marine Park to see animal shows and exhibits. Visitors can enjoy 8 shows of the park i.e. dolphins, sea lions, birds etc. Lunch is served at one the Safari World's restaurants.
TOUR INCLUDED
1. Licensed driver with licensed English-speaking guide
2. All road tolls and parking fees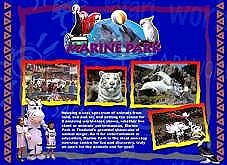 3. All admission fees
4. Lunch at local restaurant
5. Private tour: Transport by private air-conditioned vehicle
SIC: Transport by non-private air-conditioned vehicle
Thai Baht
Per pax

1 Pax

2 Pax

3 Pax

4-8 Pax

9-15 Pax

SIC

3,270

1,830

1,350

970

Upon Request

N/A