KBV – 04: KRABI CITY

TOUR ,

Full day
The tour is operated 09.00 to 16.00 hrs.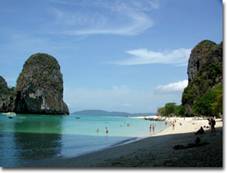 Start in the morning at 09:00 pickup from hotel lobby for Krabi discovery tour, we will bring you to Khao Kanab Nam for sight seeing Mangrove Forest along Krabi River.  You will be going on a traditional Thai longtail boat what brings you to many exciting places. After boarded the longtail boat about 20 minutes, the boat will be landed near a cave where you can see the stalagmites and stalactites with many bats inside. Then go ahead to see the traditional Thai fishers at work, see how the fisherman cultures fishes & sea mussel, see some really huge fishes and you also can feed them. Then go back to the pier, along the both sides you will see some longtail monkeys, monitor lizards and many kinds of animals that live in this wide Mangrove Forest. (Take longtail boat for 2 hours)
The next stop is Krabi Town, a place for shopping. Krabi products, T-shirt, fashion shoes, copy CD song, local fruits durian, mango, rambutan can be find here. 
Lunch will be served at the local restaurant
After that the trip will extent to the Wat Tham Sua, which is the most beautiful temple in Krabi. Its surroundings have a quiet atmosphere with plants and flowers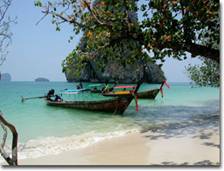 and are suitable for relaxation and learning meditation. There is cave sightseeing with many limestone stalagmites and stalactites and 100 year old trees. On top of the mountain stands a golden pagoda with more than 1000 steps to reach it, but beautiful views of Krabi town and Khao Kanab Nam would be well worth the effort.
Su San Hoi (Shell Cemetery) – the shell graveyard at Ban Laem Poh was once a large fresh water swamp, home to a kind of snail. About 40 million years ago, these snails lived and died by the million, to the extent that the dead snails formed a layer upon which existed the living. This shelly limestone is now distributed in great broken sheets of impressive magnitude on the seashore at Cape Laem Poh.
End of tour then go back to the hotel
TOUR INCLUDED
1. Licensed driver with licensed English- speaking guide
2. All road tolls and parking fees
3. Lunch
4. Admissions
5. Private tour: Transport by private air-conditioned vehicle
SIC: Transport by non-private air-conditioned vehicle (operates in morning only)
Thai Baht

Per pax

1 Pax

2 Pax

3 Pax

4-8 Pax

9-15 Pax

16-20 Pax

21-30 Pax

31 + Pax

SIC

4,900

2,650

1,890

1,890

1,01,040

1,040

1,040

1,040

2,160

Booking | Back