KBV – 06:  AO TALANE SEA KAYAKING, Full day
The tour is operated 08.30 to 17.00 hrs.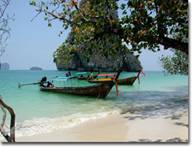 Pick up from your hotel, arrive at the pier and depart by Sea Kayak to the mangrove forest area – AO TALANE.
About half way along the coast between Than Bok Khorani and Krabi town is a bay of mangroves that may be the most beautiful in all of Thailand. Here, bays and canyons are like passageways. Recently discovered, this setting superb for having a first time encounter with this ecosystem. In addition, there are very rich faunas. The region contains good examples of traditional villages. Certainly a highlight of this setting is narrow channels cut through two towering karst complexes, which is possible during all but extreme low tide periods. Disney world could never create a more beautiful jungle river cruise than this. Several species of Kingfishes, Little Herons and Crab Eating Macaques are almost guaranteed sightings in the remains of a jewel destination, undeveloped and without being horrendous crowed. This area, AO Talane through not officially designated as a national park, may soon become one.
Free time at the sandbank for swimming. Enjoy to padding back to the pier.
Transfer back to your hotel.
TOUR INCLUDED
1. Round trip transfer, by non-private air-conditioned vehicle (operates in morning only)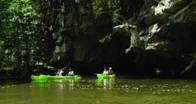 2. Kayak
3. Lunch
4. Soft drink
5. All road tolls and parking fees
6. Admissions
Recommend :  Casual dress, sandals, sun block lotion, hat or cap, swimming suit, towel.
Remark;            The time can change depend on the weather high tide and low tide.
Thai Baht

Per pax

1 Pax

2 Pax

3 Pax

4-8 Pax

9-15 Pax

16-20 Pax

21-30 Pax

31 + Pax

SIC

UPON REQUEST

1,500

Booking | Back