KBV – 07:  HONG ISLAND SEA KAYAKING, Full day
The tour is operated 08.30 to 17.00 hrs.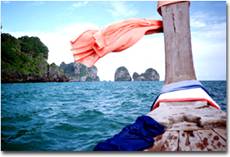 Pick up from your hotel and arrive Sea Kayak Pier, then transfer to KOH HONG by long tail boat, enter the kayaks and paddle to the Hong
Hong Island stands out as one of the most beautiful island of the Andaman coast. As your approach from the sea the towering limestone formations and crystal clear water inspire images of deserted Dream Island. Pelay beach boasts powder white sand and wonderful coral and fish. Koh Hong's name comes from the Thai word "Hong" which translates as "room". In the middle of beautiful island there lies a hidden lagoon spot for local fishermen and is also one place where bird nests are collected. The coral reefs here are amazing and siphons can also be found.
Naturally, there is an abundance of brightly. Colored tropical fish also to be found here. 
Lunch is on the beach. Then you have free time for swimming and self-padding. After sightseeing around Koh Hong,  return to Sea Kayak Pier and departure to the hotel.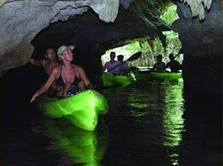 TOUR INCLUDED
1. Round trip transfer, by non-private air-conditioned vehicle (operates in morning only)
2. Snorkel & Kayak
3. Lunch
4. Soft drink
5. All road tolls and parking fees
6. Admissions
Recommend :  Casual dress, sandals, sun block lotion, hat or cap, swimming suit, towel.
Remark;            The time can change depend on the weather high tide and low tide.
Thai Baht

Per pax

1 Pax

2 Pax

3 Pax

4-8 Pax

9-15 Pax

16-20 Pax

21-30 Pax

31 + Pax

SIC

UPON REQUEST

1,890

Booking | Back