KBV – 09: PODA ISLAND, CHICKEN ISLAND AND PRANANG CAVE (SIC),

Fullf

day
The tour is operated 09.00 to 17.00 hrs.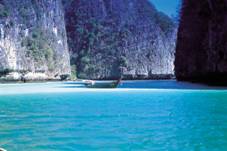 Departure from your hotel to AO Nang pier and then by long tail boat take you to PODA ISLAND . Where are clean sandy beaches, clear water and schools of colorful fishes in abundance perfect for SNORKELLING or swimming.
Enjoy swimming, snorkeling, around the corals or enjoy sunbathing on the white sandy beaches. There are also other islands to visit as well: TALU ISLAND – the center of this island has a 45 meters high hill, perforated by a 30 meters hole, thus its name.
Talu means to pass-through. The island is noted for the presence of swifts in large numbers that make the precious swallow bird's nests used in the Chinese delicacy, Bird's Nest Soup. Here you can swim and see coral reefs.
Next visit Chicken Island named after a large stone resembling a chicken. The island is also great for swimming and snorkeling. Have lunch at KAI ISLAND (or CHICKEN ISLAND) – amazing the wonderful rocky as the big head of Ostrich. See a lot of small colorful fish and coral reef, relax at sandy beach.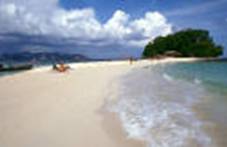 TAP ISLAND – is composed of 2 small isles – Koh Tub and Koh Mor, joined together by sand bars.
The last stop is at Pranang Cave to visit a very famous "spirit house" before returning to the mainland and your hotel.
TOUR INCLUDED
1. Round trip transfers
2. Long tail boat
3. Lunch
4. Soft drinks          
Recommend:  Casual dress, sandals, sun block lotion, hat or cap, swimming suit, towel.        
Remark         : The time can change depend on the weather high tide and low tide.
                           Transport by non- private air-conditioned vehicle
Thai Baht

Per pax

1 Pax

2 Pax

3 Pax

4-8 Pax

9-15 Pax

16-20 Pax

21-30 Pax

31 + Pax

SIC

UPON REQUEST

590

Booking | Back