KBV – 11:  PHANG NGA BAY BY SPEED BOAT, Full day
The tour is operated 08.30 to 17.00 hrs.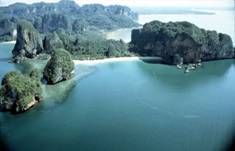 Depart from Nopparat Thara pier by tour boat to KOH PING-GAN. The name means literally leaning mount. It is really a huge rock split in two; the smaller half has slid down and the remaining one appears now to be leaning. 
Though Kao Ping-gan is a very small island, one still smaller, KOH TAPOO OR JAMES BOND ISLAND, is in a little bay of Koh Ping-gan where visiting boats pull up. Tapoo means nail, and this shore less rock projects up from the sea as its name implies: flat and wide at the top, and very narrow at waterline. It is striking sight. And the island became more famous after the James Bond adventure, The Man with the Golden Gun, was partly filmed here.
Lunch local restaurant & shopping at Panyee Island. PANYEE ISLAND. This small island has a picturesque village, which rests precariously on small pilings and extends out across the water. It is inhabited chiefly by Muslim fisher folk, whose unique culture has existed, cut off from the mainland and most modern amenities, for more than a hundred years. Souvenir shops and seafood restaurants cater to visitors.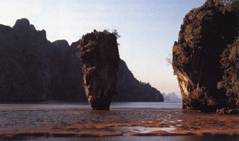 Afternoon, boat sight seeing around Paradise Island ( Lading Island )
Then you have free time for swimming and snorkeling at Paradise Island, return to the boat and depart to the hotel.
TOUR INCLUDED
1. Round trip transfer, by non-private air-conditioned vehicle (operates in morning only)
2. Snorkeling equipment
3. Lunch
4. Speed boat
5. All road tolls and parking fees
6. Admissions
Recommend :  Casual dress, sandals, sun block lotion, hat or cap, swimming suit, towel.
Remark;            The time can change depend on the weather high tide and low tide.
Thai Baht

Per pax

1 Pax

2 Pax

3 Pax

4-8 Pax

9-15 Pax

16-20 Pax

21-30 Pax

31 + Pax

SIC

UPON REQUEST

2,400

Booking | Back