KBV – 12:  PHI

PHI

ISLAND BY SPEED BOAT, Full day
The tour is operated 08.30 to 17.00 hrs.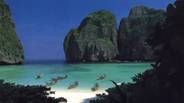 Visit Phi Phi Island which is considered to be one of the most beautiful islands in the world. In the morning departure from the hotel to AO Nang Pier. Then you will arrive to PHI PHI DON ISLAND by tour boat. There are long beaches with rocks scattered about. Two curving bays are especially beautiful: Ton Sai and Loh Dalam.
After lunch you will have free time to see the local market or just to relax on the beach. Then you will reach PHI PHI LEY ISLAND, which is entirely limestone and steep cliffs rising from the sea very nearly ring it. Phi Phi Ley has several beautiful bays: Pileh, Maya and Loh Samah. At Maya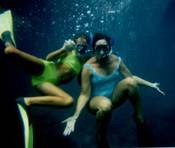 Bay you can enjoy SNORKELING, which is excellent there.
On Phi Phi Leys northeast is the famous VIKING CAVE; this was renamed by H.M. Rama IX when he visited it in 1972, Tahm Pya Nak, from the shape of the particular boulder, which resembles in shape the head of the great serpent of Buddhist legend, the Naga. It is a place much revered by the local people who come there to collect the swift's nests used to make Bird's Nest Soup, a Chinese delicacy. 15:30 return back to Krabi from the pier of Phi Phi Don Islnd.
TOUR INCLUDED
1. Round trip transfer, by non-private air-conditioned vehicle (operates in morning only)
2. Snorkeling equipment
3. Lunch
4. Speed boat
5. Soft drinks
Recommend :  Casual dress, sandals, sun block lotion, hat or cap, swimming suit, towel.
Thai Baht

Per pax

1 Pax

2 Pax

3 Pax

4-8 Pax

9-15 Pax

16-20 Pax

21-30 Pax

31 + Pax

SIC

UPON REQUEST

2,125

Booking | Back