USM – 02: SAMUI ADVENTURE TOUR (SIC), Half day
The tour is operated 08.30 to 14.00 hrs.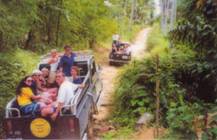 This is a half day tour which offered an exciting adventure experience by 4 WD jeep.
Depart hotel by 4WD jeep for approximately 30 minutes drive to the south of Koh Samui. Here, within beautiful scenery of the green forest is located the Elephant camp, where the guests can see daily life activities of these huge animals, bathing, and how the elephant at work. Watch them demonstrating their prowess and strength as they move logs, as well as serving as a mode of transportation for man. Then followed by the monkeys work on the coconut trees.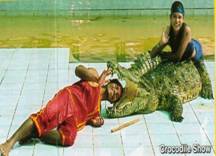 After 30 minutes show, an elephant ride (2 pax per elephant) will start from the camp for soft trek for 30 minutes through the forest.
Next you will encounter one of the most thrilling, dangerous and primitive creatures on this planet… the crocodile. The handlers will attempt dangerous and sometimes funny stunts at the crocodile show. From the camp, proceed to the rubber plantation, where you will see how rubber trees are tapped and the rubber is prepared into sheets.
Drive up to the mountain, stop at a wild stream of Tar Nim Waterfalll and visit the magic garden of stone sculpted statues. Just short drive away, visit the mountain viewpoint is a must. The mountain view of Samui's major beach is breath-taking and the adventure tour would be incomplete without it. Lunch will be served at the local restaurant on the beach, then back to the hotel.
TOUR INCLUDED
1. Round trip transfer by 4WD open air jeep
2. Lunch
3. Solft drinks
4. All admission fees, land transfer, and boat transfers
5. SIC: Transport by non-private air-conditioned vehicle
Recommend: wear short pant, sport shoes or saddle, hat, sun block lotion.
Thai Baht

Per pax

1 Pax

2 Pax

3 Pax

4-8 Pax

9-15 Pax

16-20 Pax

21-30 Pax

31 + Pax

SIC

UPON REQUEST

1,660

Booking | Back