USM – 08: SAMUI MOUNTAIN  SAFARI (SIC), Full day
The tour is operated 09.00 to 17.00 hrs.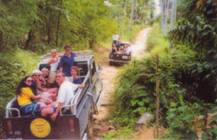 As 250 sq.kms. of Koh Samui are ¾ of area covered by mountainous which blanketed of Coconuts, Fruits Plantation and Tropical Rain Forests that you may have an opportunity to see a wealth of tropical flaura & fauna.
Not only sun-sea and white sand beaches with are some of the most scenic and unspoiled are the seductiveness to visitors, and also inwards are mountains landscape which a wealth of tropical flora and fauna,  some area are verdantly by plantations of coconut and local fruits,  which are in season will be fruitful of durians, rambutans, etc, that visitor can experience from it's source.
On the top are offer the spectacular panorama view for stunning the Blue Sky & Sea encounter a the horizontal.
Drive though the verdant jungle, high on the rugged hills and along the dirt track,  will give an exciting adventure experience.
Morning pick up 08.30-09.00 at hotel by 4 wd jeep with experienced driver, the 1st stop will  make at Chaweng View Point then Grand Mother & Grand Father Rock, follow by a demonstration of trained monkey harvest coconuts. 
Drive up to the highest point of Samui at 650 meters, refreshment stop at a wild stream of Tar Nim Waterfall and visit the magic garden of stone sculpted statues, watching the farmer making rubber sheets from Para rubber tree.  Set lunch in a restaurant at view point.
Descend the mountain recover Maenam Village and then Big Buddha for a stunning sunset, back to hotel.
TOUR INCLUDED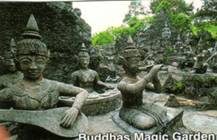 1. Licensed English speaking guide
2. All admission fees
3. Lunch
4. Soft drinks
5. Round trip transfer SIC: Transport by non-private 4WD open air jeep
Recommend; wear sport shoes or sandals, bring along towel, hat or cap, sport shirt or T-shirt with short pant are very comfortable.      
Thai Baht

Per pax

1 Pax

2 Pax

3 Pax

4-8 Pax

9-15 Pax

16-20 Pax

21-30 Pax

31 + Pax

SIC

UPON REQUEST

1,400

Booking | Back