USM – 11: AROUND SAMUI ISLAND WITH SNACK SHOW, Full day
The tour is operated 09.00 to 16.30 hrs.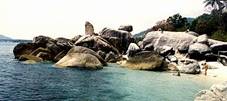 Start in the morning at 09.00 pickup from hotel lobby for Kho Samui discovery tour.
The 1st stop will be t Ladd Koh viewpoint for a panoramic view
Of the famous Chaweng Beach which powdery white sandy contrasting to  the clear blue seas.
Next stop at a marvelous strange natural formation of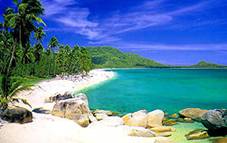 GRAND MA & GRAND PA rocks have been fashioned by the elements into massive sculptures, creating a lot of humorous interest from tourists.
WT KUNARAM for pay respect to the mummified body of Lung por Daeng the sacrosanct for native, he was died more than 20 years ago in a sitting position of meditation, his body shows few signs of any major decay (un-decomposed).
The refreshment stop at NA MUANG WATERFALL impressive with the wide drop of 30 meters cascade to a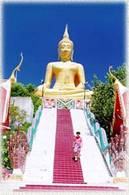 natural pool below.  Local fresh fruits durian, rambutan, mangosteen, etc. are available during its season.  Lunch will be served at the restaurant.
A shopping time at NA THON TOWN  a capital of Koh Samui, a place where the pier for em & embarkation to main land.  Samui products, beach wears, copy watch imitation levis jean and even jewelry can be find. 
BIG BUDDHA, a large statue of Lord Buddha image is dominating on a hill top of a small island which can be walk up to the big gallery for the surmounting bird's eye view.  Banks, Sea shetts and coconut shells products are available for shopping as well.   End of tour then back to the hotel.
After noon visit the thrilling snake show.  You will be able to see
 the world largest poisonous snake (alive) KING CROBA very close and safe which you will never had a chance like this in your life before.  During the show you will get excited with the dangerous shows with scorpions, spitting croba and many difference kinds of snake.  Thai set lunch will be served at a local restaurant.
TOUR INCLUDED
1. Licensed driver with licensed English-speaking guide
2. All road tolls and parking fees
3. All admission fees
4. Lunch at local restaurant
5. Private tour: Transport by private air-conditioned vehicle
SIC: Transport by non-private air-conditioned vehicle
Thai Baht

Per pax

1 Pax

2 Pax

3 Pax

4-8 Pax

9-15 Pax

16-20 Pax

21-30 Pax

31 + Pax

SIC

2,200

1,400

1,190

1,190

990

990

990

990

1,250

Booking | Back